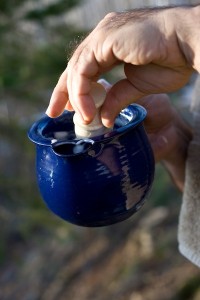 My introduction to the Moss Scuttle came via a fax from Chris Moss since his efforts of trying to weld a prototype for himself did not end well and he thought I could help.
Intrigued with a new project, I made one to his specs and after we talked it over, made another one that I thought would function better.
He was delighted and said, I have 800 friends, and that is how I came to feel like Alice in Wonderland, falling through a trap door into another world. A man's world of whiskers, lathering, water temperature, aesthetics and the pleasure that comes with taking time to enjoy a daily ritual.
Little did I know of Shavemyface.com or Badgerandblade.com – the forums that candidly talk about your products and business ethics.
So Chris was right – but there were more than 800 men out there interested in getting a parcel from me, covered in real stamps and usually delivered to the Post Office on my scooter.
I now have a world map in my studio covered in pins where I've shipped the scuttle. One of the greatest pleasures in being a potter is making a pot that is useful and becomes an introduction to some of the most interesting people .