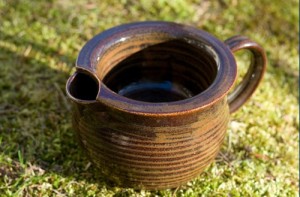 The Classic style Moss Scuttle was the first glaze Sara Bonnyman used when making the initial Scuttle from Dr. Chris Moss's initial design. During one of the first reviews a Moss Scuttle the editor of ShaveBlog.com (link here to review) told Sara that the brown colour of the Class was all she'd ever need.
It's been more then 6 years and six different glazes later, and people love to choose their own style.
The Classic Moss Scuttle is available in Small and Large.