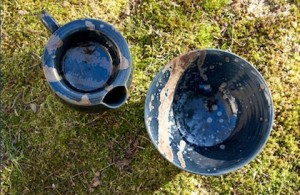 These combination Moss Scuttle and bowl package is ideal for those who don't want to create their later directly in the pot of their scuttle.
Create your lather in the beautiful bowl and then place your brush in the top pot of your Moss Scuttle to stay warm in-between passes.
There are a few combinations available, pictured to the left is the Waterfall glaze Moss Scuttle and bowl. See other combinations available here.