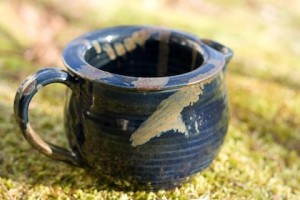 If you ask potter Sara Bonnyman about the Waterfall glaze she'll tell you it looks the way it does because it's fired in the Gas Kiln. If you ask her on the right day you might even discover that even after all these years of pottery creation she's still never quite sure if she's going to blow herself up when starting it :).
The gas kiln burns much hotter then the electric kiln which creates a deeper and more interesting glaze. The waterfall glaze is similar to Sara's Robbie Burns glaze used on some of her other pieces.
You can get a Waterfall Moss Scuttle in Small and Large.